Let's start 2023 by "Being THAT Person!" The one that has confidence. The one that is healthy. The one that beat depression. The one that went for it. The one that refused to give up. The one that inspires others. Who you are and what you accomplish is entirely up to you! That's it. We all have the same 24 hours in a day and people just don't fall on top of a success mountain. Success happens on purpose. The path to success is broken down into small daily actions done consistently over time. We don't just succeed randomly, we prepare for it. Success actually happens on purpose. The honest truth? There is no pill or person that is going to make it happen for you. Yes, you can get help when accomplishing your goals, but it's up to you to take action. Our current lives are a result of the decisions we have made and the actions we have taken. Choosing to do nothing is still a choice and has a result. We are the reason why we are where we are today. Yes, life happens, things suck sometimes, but how we respond to these things is up to us. We can feel sorry for ourselves and stay there or we can choose to grow through what we go through. You have what it takes! You can rise up from anything. You can completely recreate yourself at any age. You are not stuck! All that matters is that you decide today and never look back.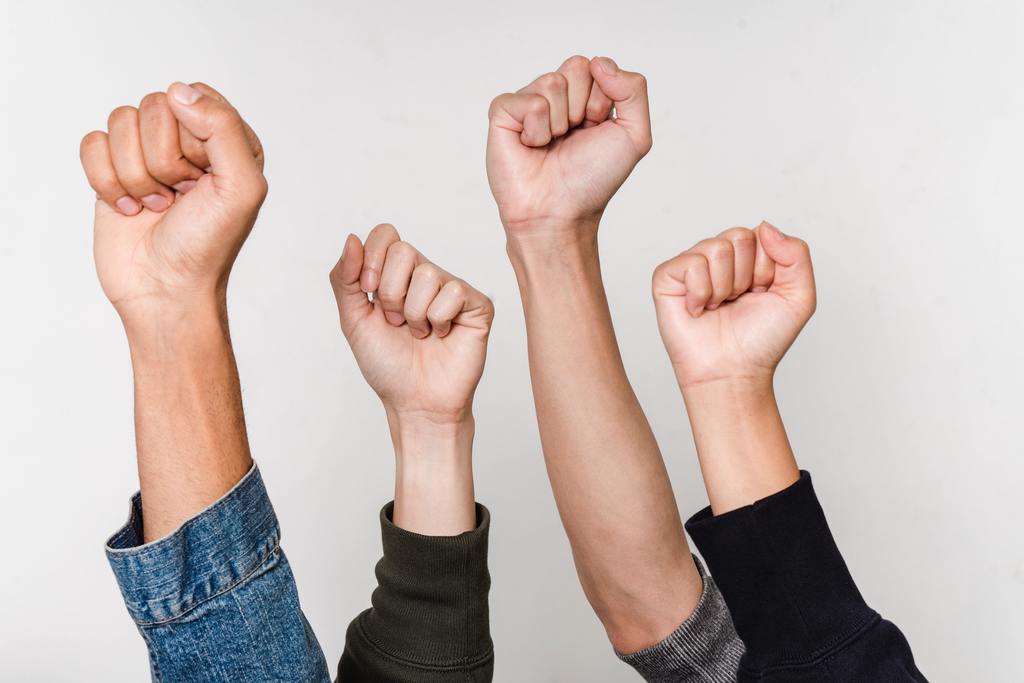 Yep, it's true. This Friday school is in session. It'll be ok. You will survive!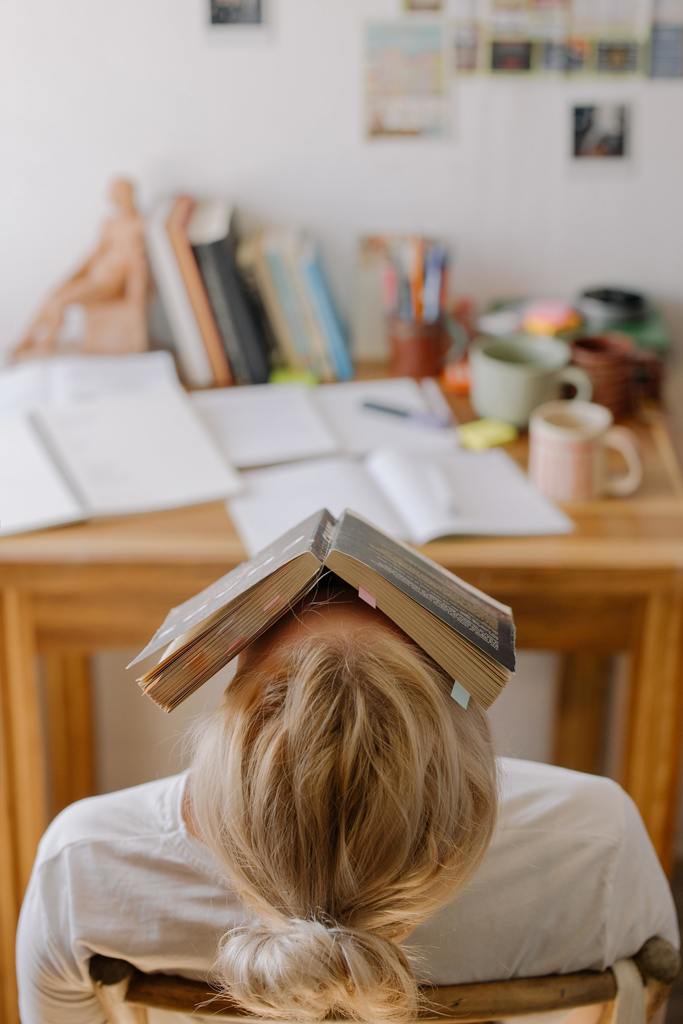 The Eminence R-I School District has an immediate opening for a full-time custodian on the Elementary campus. This would be full time a position with insurance and retirement benefits. Please complete the support staff application that can be found on the school website and submit it along with a cover letter and resume to
eric.allen@redwingsk12.org
or mail to Eminence R-I Office of the Superintendent, PO Box 730, Eminence MO 65466. Eminence R-I is an equal opportunity employer, and the position is considered open until filled.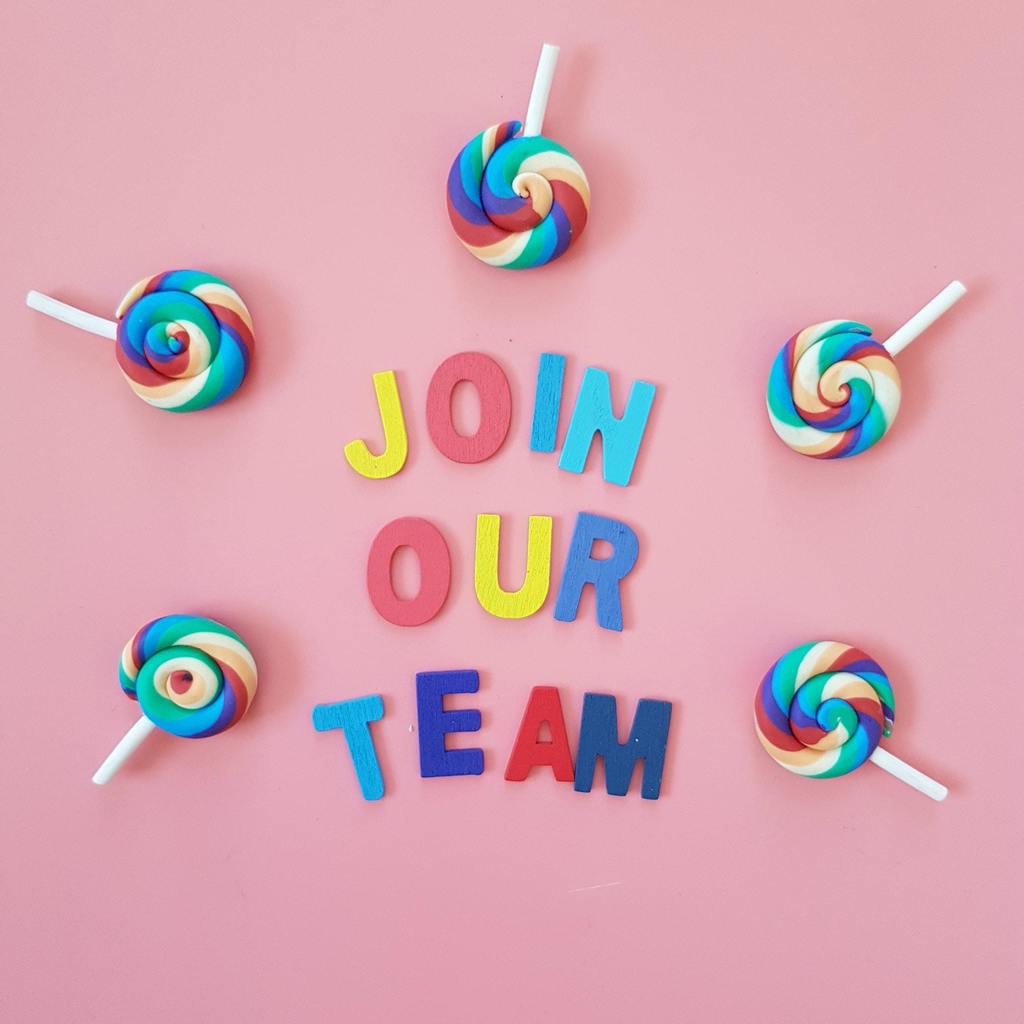 EHS Music & Drama students have been busy, not just with the tropical holiday concert, they also traveled to Branson to experience the Miracle of Christmas and put together a stellar Christmas float for the Eminence Parade.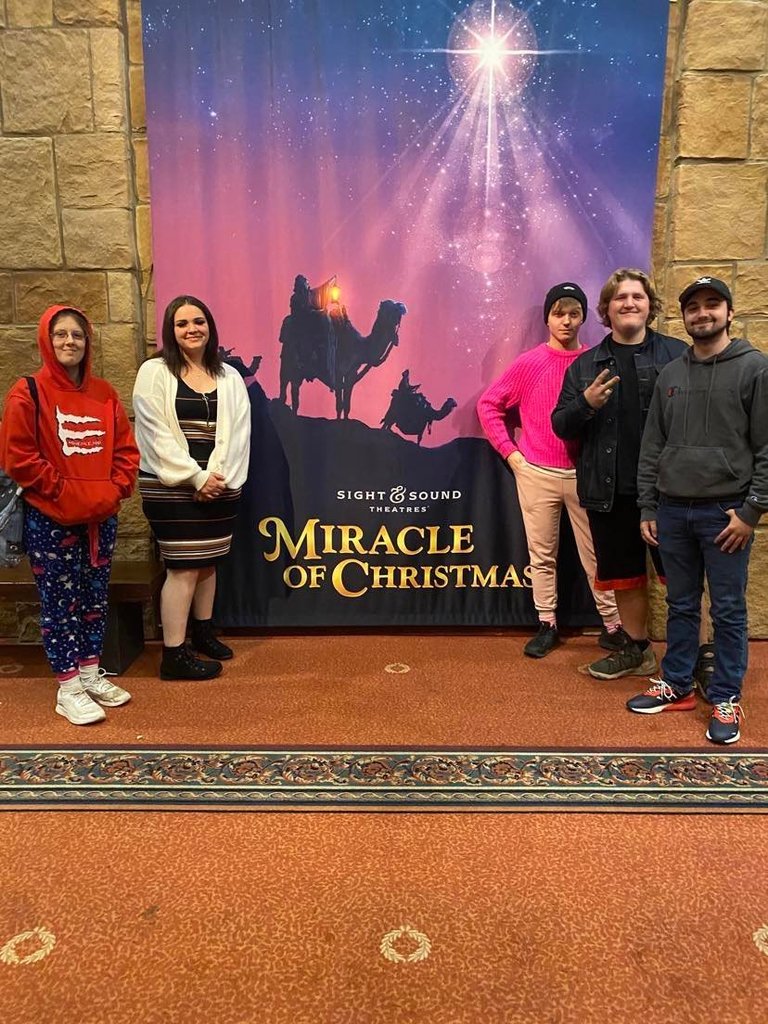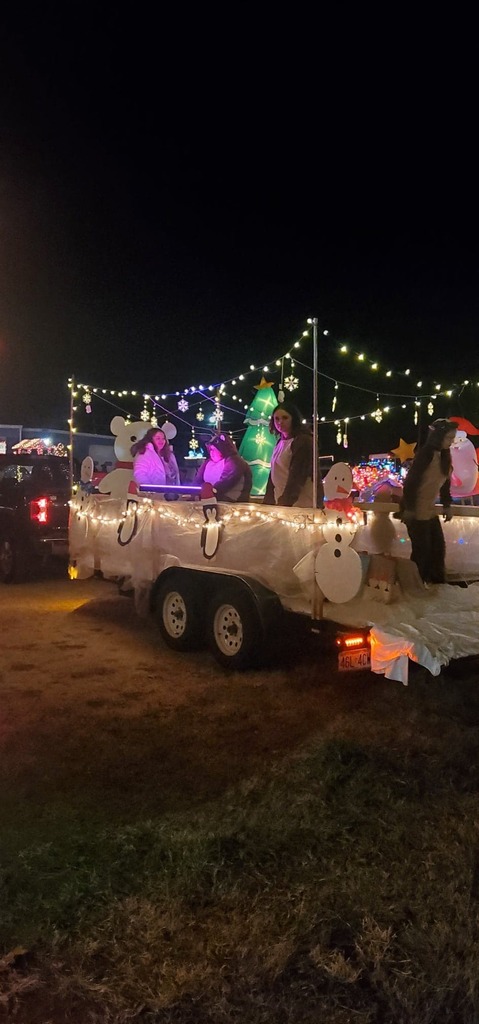 Apply NOW! Two openings within the Eminence R-I School District are available. (1) Full Time Paraprofessional/January start: an active Missouri sub certificate required. (2) High School Baseball Coach/Spring 2023 season: an active Missouri sub certificate required; other employment with the school district is not required. For either position, complete the support staff application found on the Redwings website and submit it along with a cover letter and resume to
eric.allen@redwingsk12.org
or mail to Eminence R-I Office of the Superintendent, PO Box 730, Eminence, MO 65466. Positions are considered open until filled. Eminence R-I is an equal opportunity employer.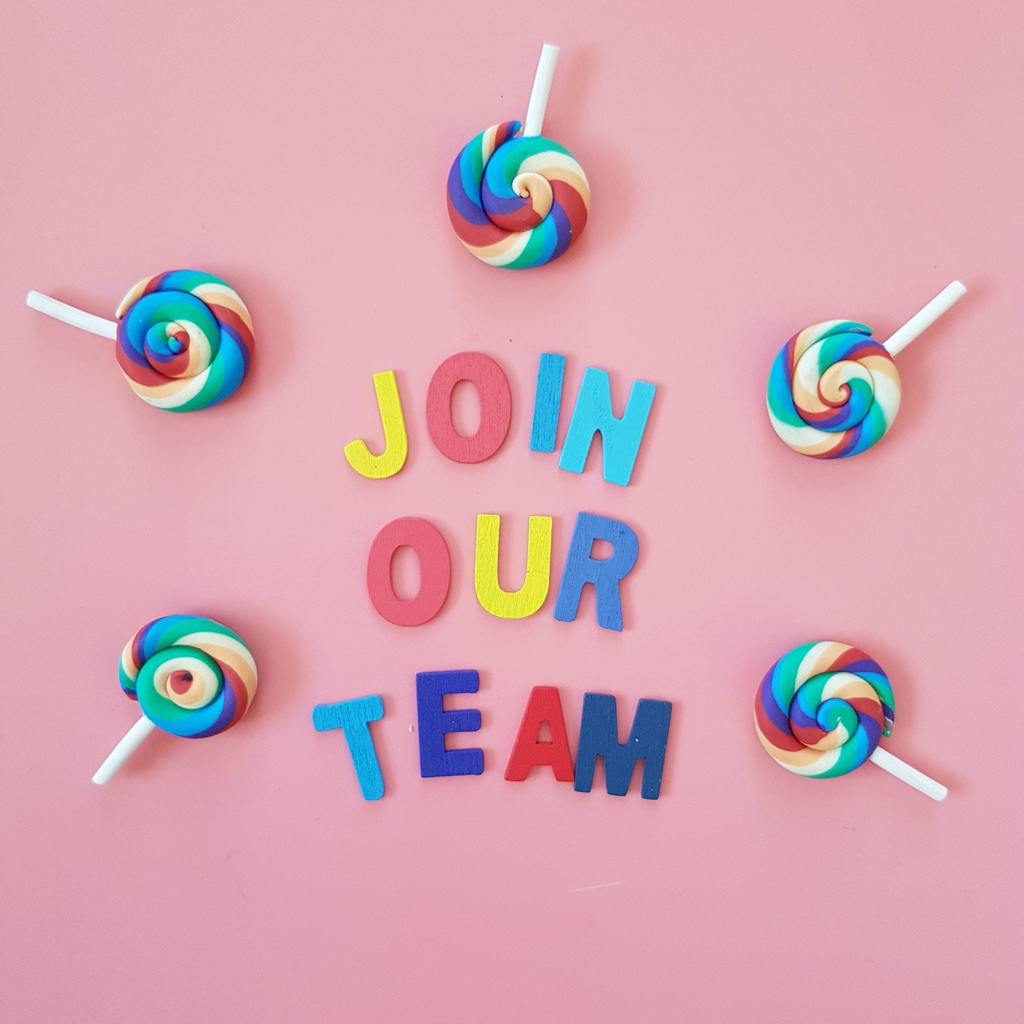 IMPORTANT UPDATE: Location has changed to the Elementary Cafeteria.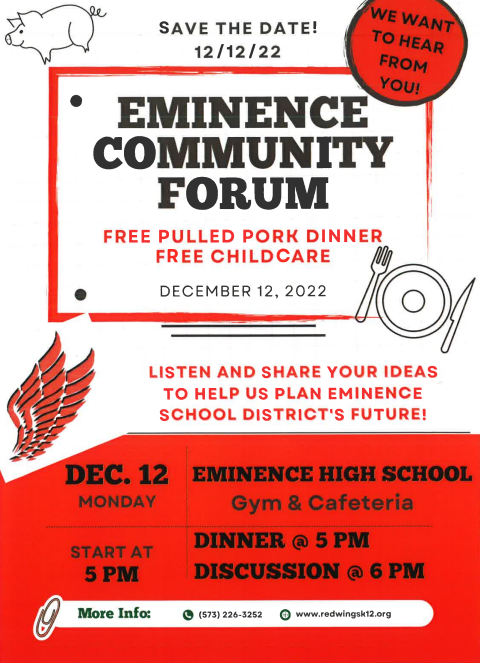 Save The Date

Little Redwings Basketball K-1st Grade Sign-ups & Open Gym - This Thursday 11/10 at 3:30 in the FEMA Gym. $20 fee to play in the Mountain View Winter Shootout League. For additional information contact Nicole Voyles at 573-604-3444.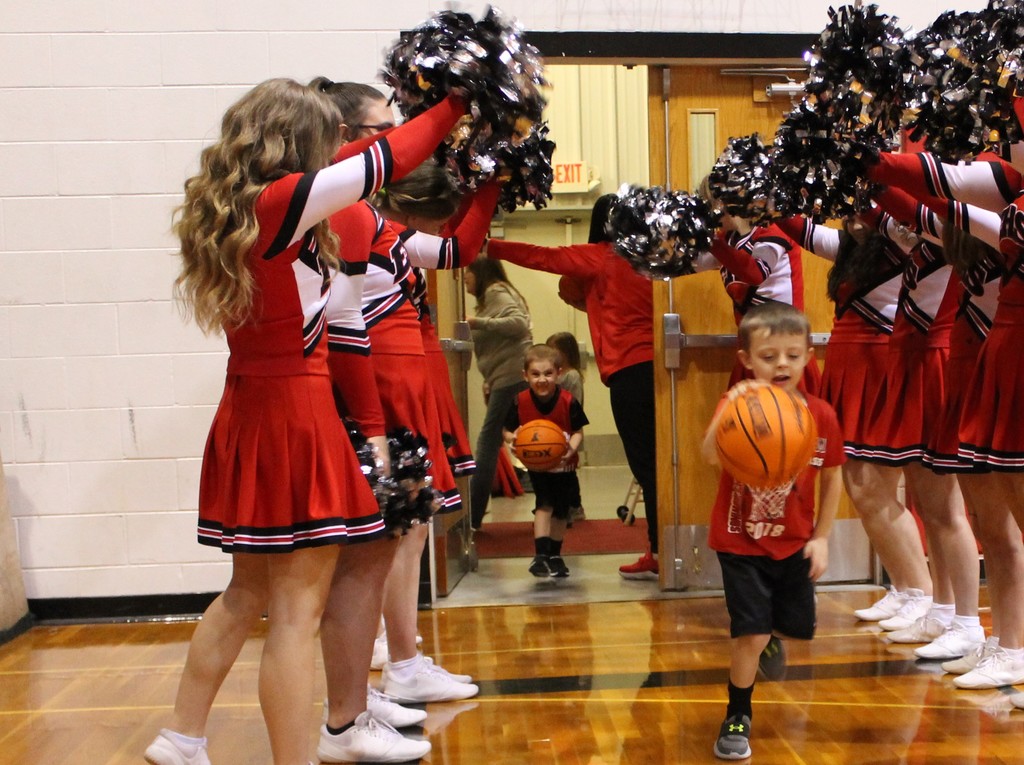 We are looking forward to celebrating our Veterans tomorrow!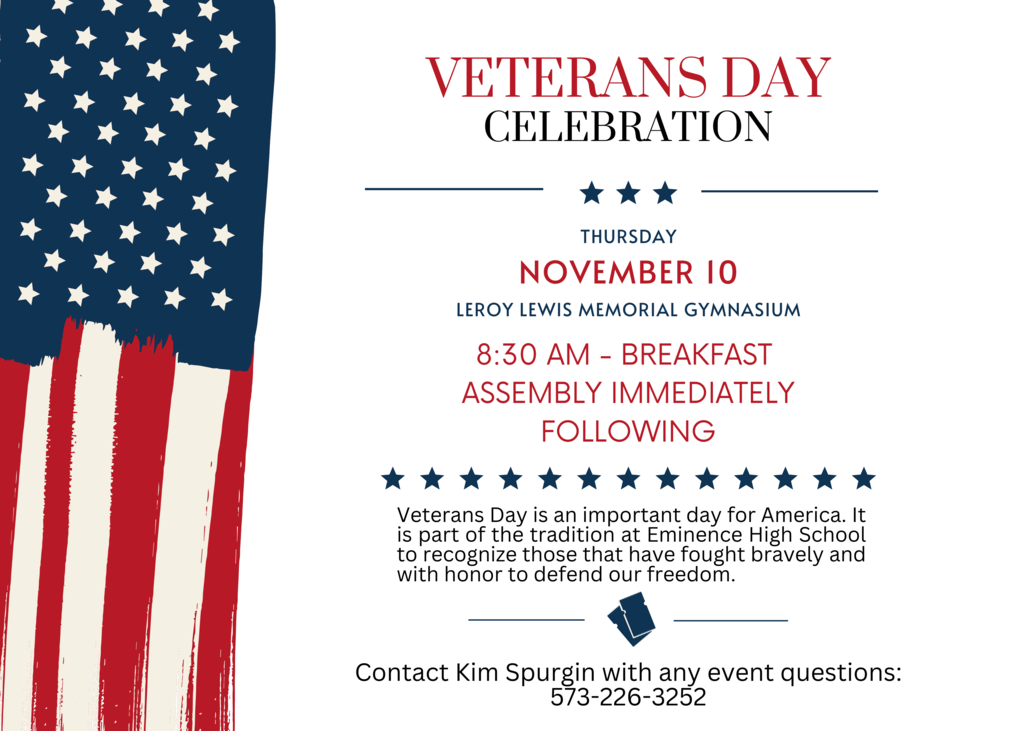 Save The Date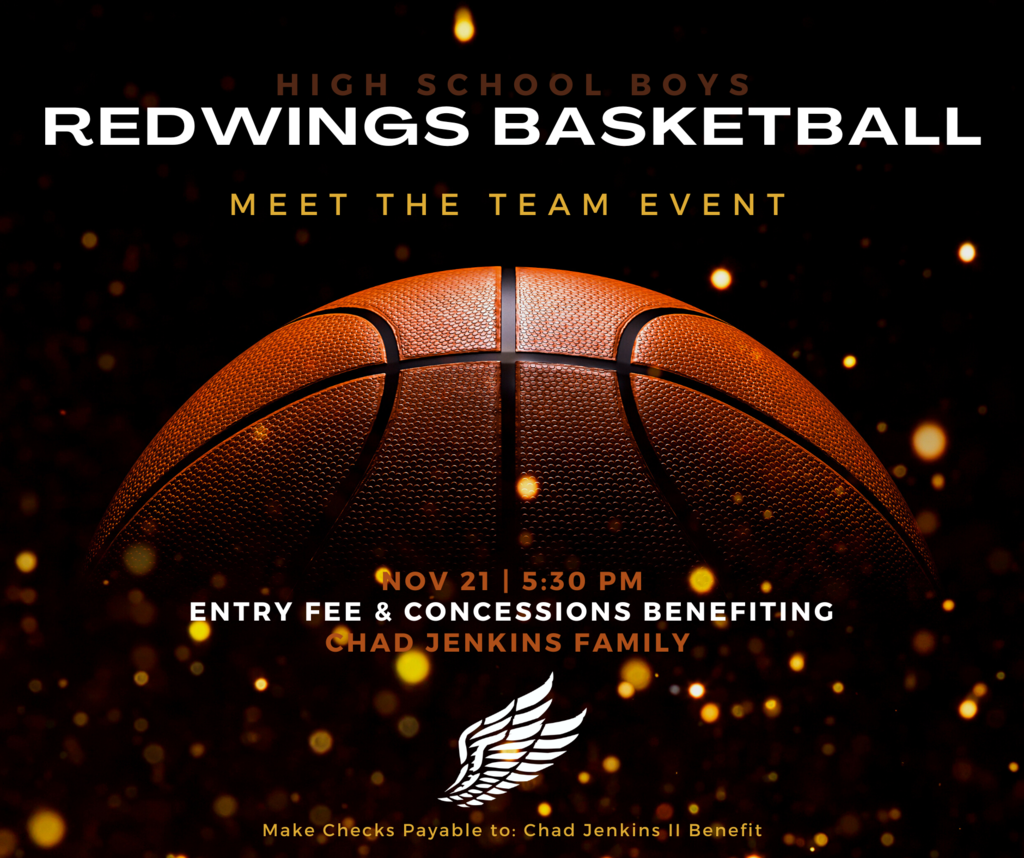 Eminence R-I is pleased to announce all campuses will begin using the Raptor Visitor Management System to strengthen our safety measures. Part of keeping students and faculty safe is knowing who is in our buildings. The Raptor system will better allow us to screen visitors, contractors, and volunteers in our schools and provide a more safe environment. Upon arrival to the building office, visitors will be asked to present identification such as a Driver's License. If a visitor lacks a U.S. government-issued ID, the school may use any form of identification and manually enter the person's name into the Raptor system. Then, the system checks the visitor's information with a national database of registered sex offenders. Once entry is approved, Raptor will issue a badge that identifies the person, the date, and the purpose of the visit. A visitor's badge will not be necessary for anyone simply dropping off or picking up items in the school office. Data from the ID is kept confidential and private. The safety of the Eminence R-1 students is our highest priority and the Raptor visitor management system allows us to quickly identify those that may present a danger to our students. Thank you in advance for your understanding and your support in enhancing the school safety protocols.


A BIG thank you to Mrs. Glenda Ennis, Elementary Principal, and Mr. Derek Brewer, High School Principal, for all they do (both seen and unseen) to help students and staff be successful. October is National Principal Appreciation Month and both Eminence R-1 principals have had significant impact on the success and well-being of the students in our community.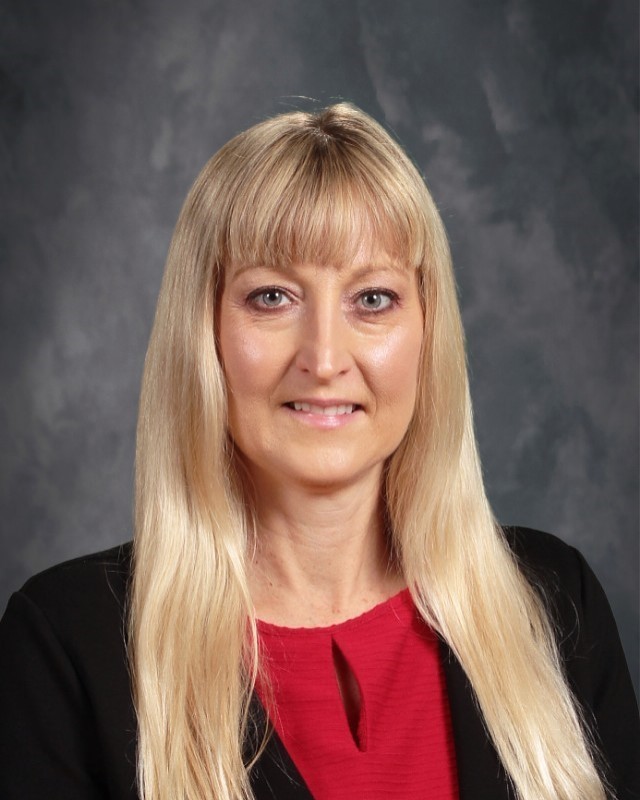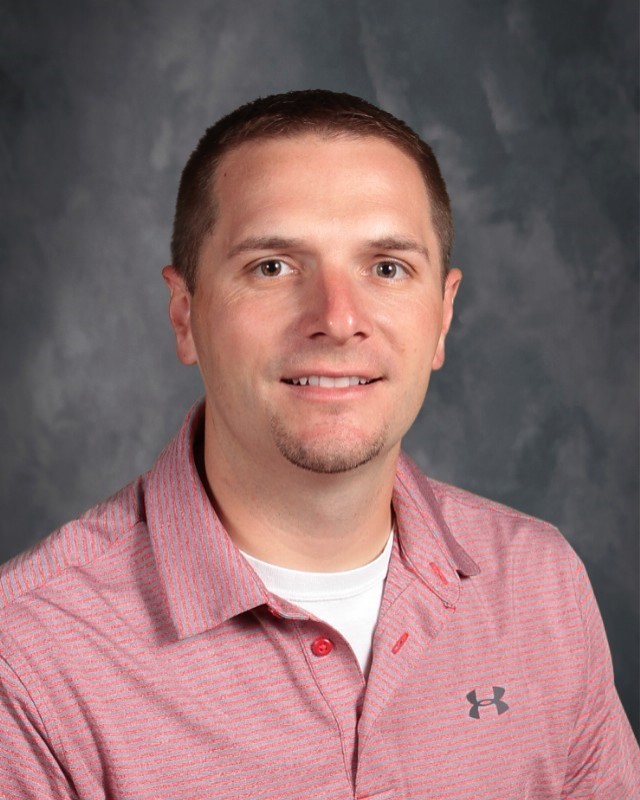 A few of Mrs. Steelman's English students demonstrated their Process Explanations papers in full Halloween spirit!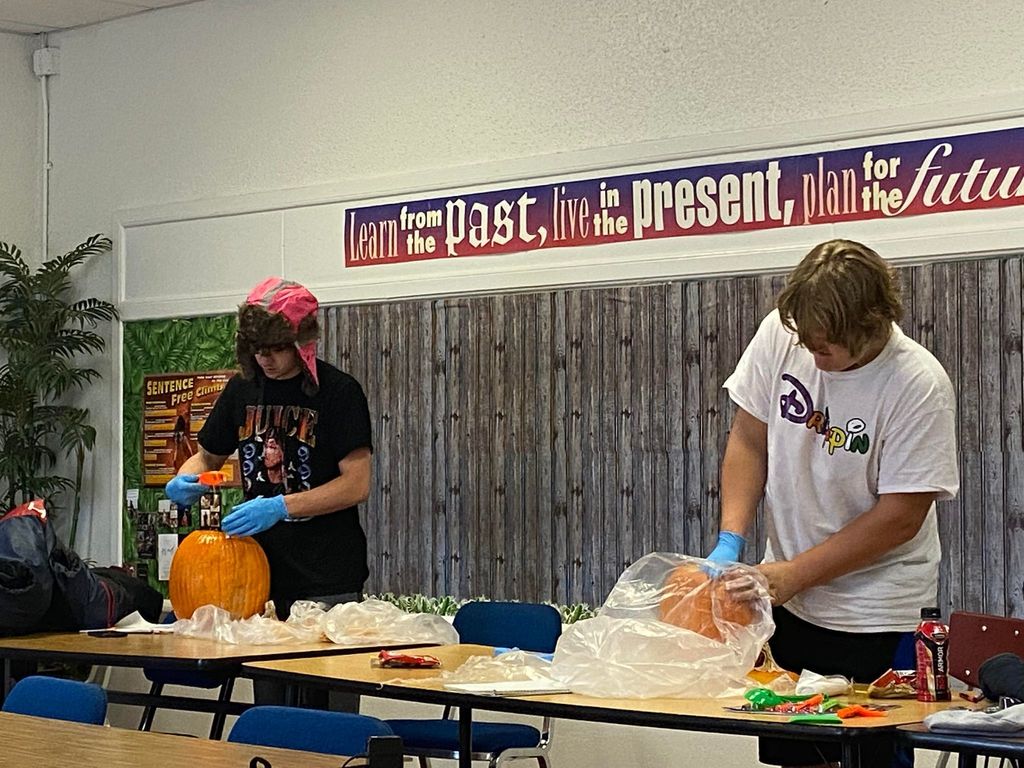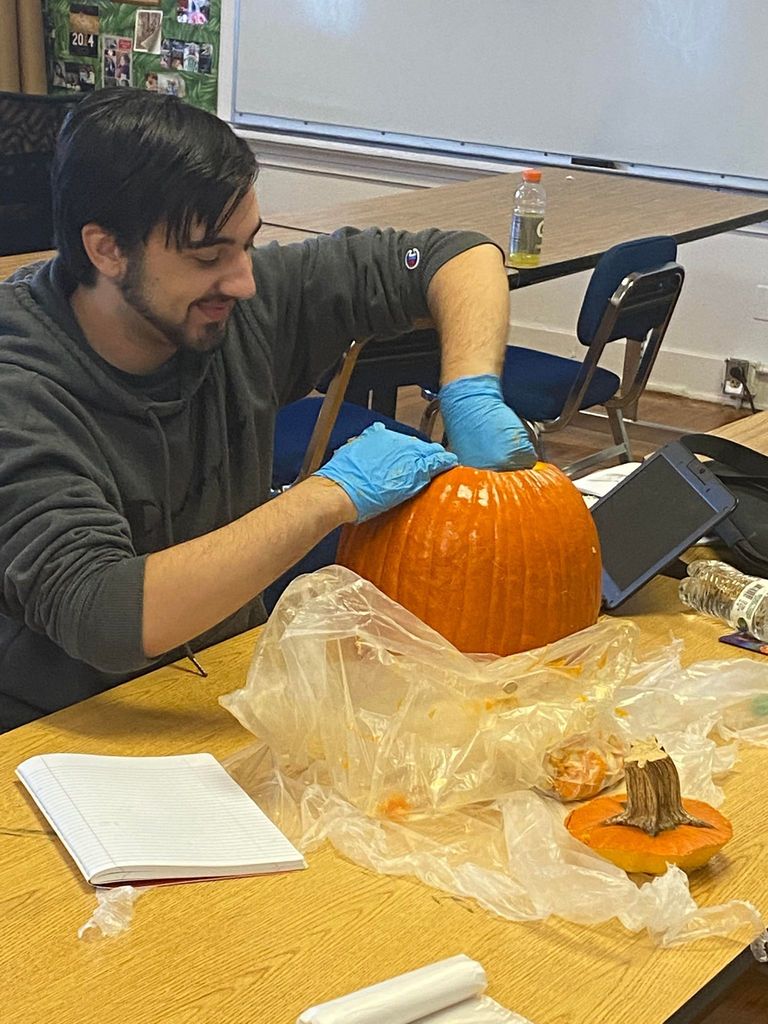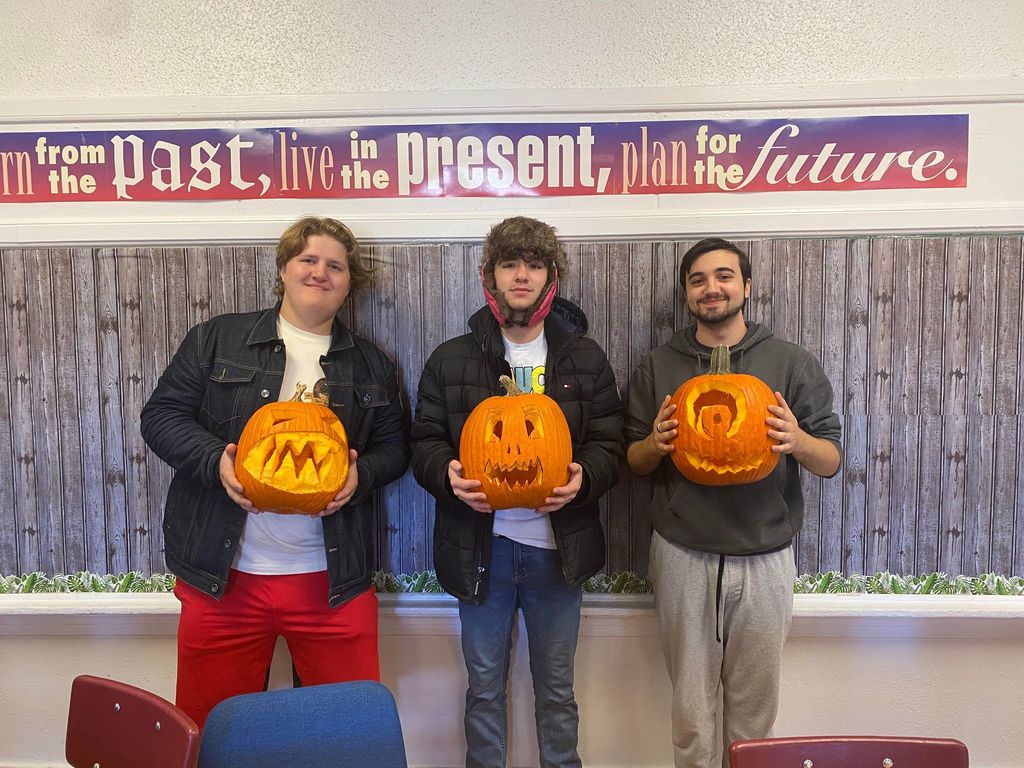 Take the Buckle Up Phone Down challenge & help EHS win CASH! Everyone is eligible to submit one entry. Just visit the website below, select Eminence from the pull-down menu, complete the fields, agree to the pledge, and hit submit. Up to $4000 could then be used to help fund student activities. Please complete the pledge and SHARE this post.
https://www.savemolives.com/mcrs/AAAShowdown
.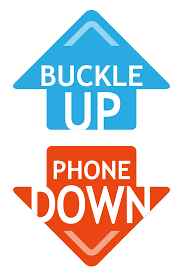 Buckle Up Phones Down! Powerful presentation from the Missouri Highway Patrol today to kick-off Red Ribbon Week. BTW, remember tomorrow is PJ Day!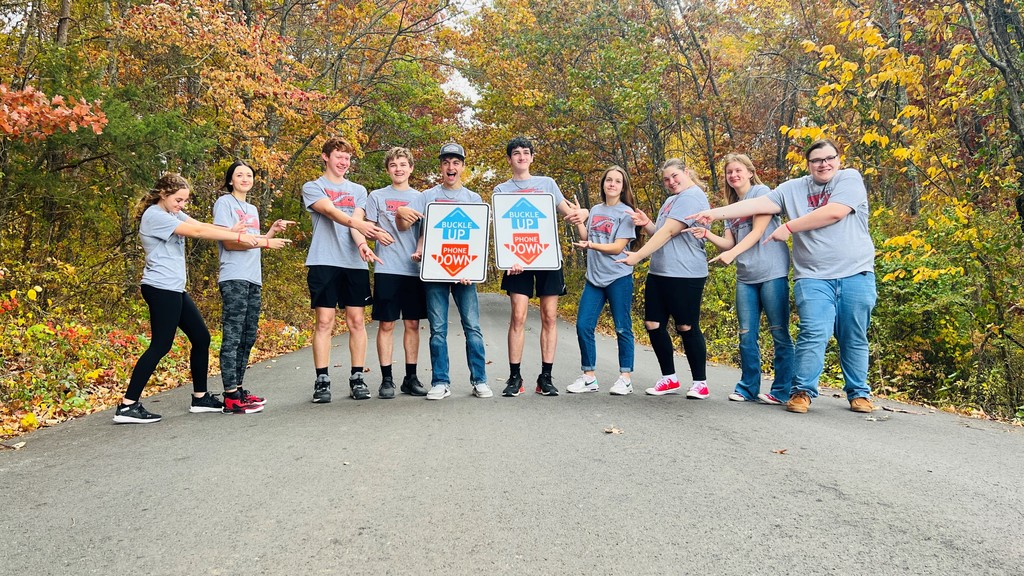 RAD is cancelled Friday 10/21 due to a teacher professional development day. Have fun, pet a dog, read a book!

Socks, socks, socks! Bring on the socks!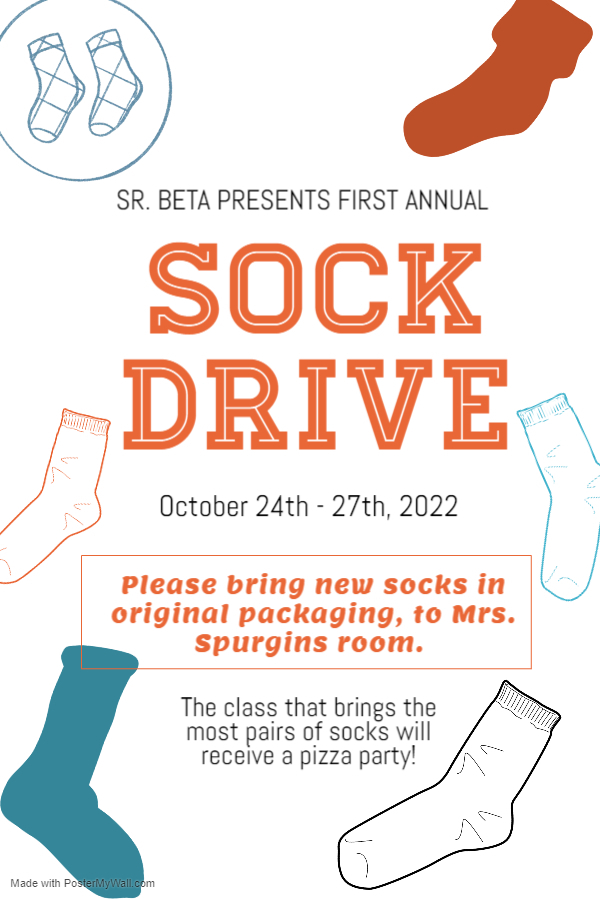 Checkup on the classroom updates, discuss achievements and concerns, or just pop in to thank your favorite hardworking teacher this Thursday October 20th. Parent Teacher Conferences will be held at both the Elementary and High School buildings from 4 p.m. to 6:30 p.m.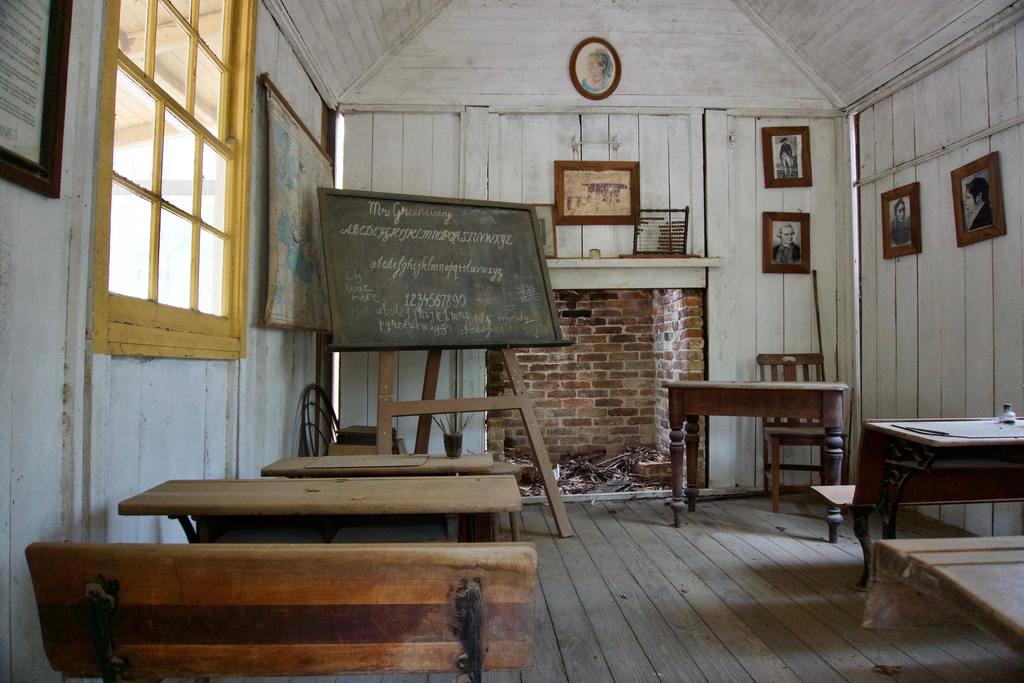 The annual Fall Festival put on by the EHS Eminence Agriculture program was a HUGE success with the Elementary kiddoes today. Corn maze, face painting, pumpkin picking, farm animal petting, and hay rides brought many heartwarming smiles.